---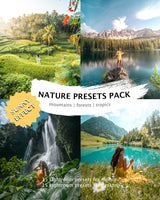 Sale
NATURE PRESETS (+sunny effect) desktop & mobile
Welcome to the Nature Presets Pack! Here are some before and afters of a few presets in this collection. As the name gives away, this pack was specifically designed to help you edit photos taken outdoors in nature, specialised on all shades of green. So if you love taking photos of mountains, lakes, jungle, forest, waterfalls... this pack is for you! The filters included in this package work on your mobile phone as well as on desktop for laptops and pc's. 
The Sunny effect that is exclusively available on destinationchaser.shop (very proud of that!), is here to help you add a sunny, warm feel and a unique, professional look to your photos. The best thing is that it doesn't take any extra knowledge from your side, you can use them with one click like any other filter.
How many presets will I get?
75 mobile Lightroom presets = 15 base presets x 5 versions of each preset, the base preset is a preset without any light enhancement, and the other 4 give you the flexibility to choose from which corner the sunny effect should show up, to keep it looking natural and adaptive to your liking.
And the same amount of presets for desktop too, so 75 desktop presets.
= 150 Lightroom presets in total
P.S.: That is only about 0,50 $ per filter!
Also, it is a one time purchase, no subscription needed. You buy them once and have unlimited access.
What presets will I get?
This pack includes:
2 (x5) Sunset presets (soft and intense colors)
4 (x5) presets for mountains
5 (x5) presets for forests and the tropics
1 (x5) waterfall preset 
3 (x5) all rounder presets
How will I get the presets? Did someone say EDITING HACKS?
After the purchase, the presets will be delivered to your email along with step by step instructions on how you can set them up, and in the spirit of learning more and improving your photography game, I have included my top editing tips & tricks so that you can use them too!
What if I need help?
Should you have any more questions or need any help with the presets, please message me and I will personally get back to you on my Instagram page @andipresets :)