---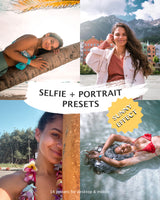 Sale
[NEW] SELFIE & PORTRAIT PRESETS (+sunny effect) for desktop and mobile
25 of my newest and best photo filters, designed for your selfies and portraits that you took at home, with your friends, or on past and future travels. The presets have a focus on skin tones and are specifically made for photos shot on the phone (and of course work with cameras too!), so they are ideal to improve your Instagram game and overall editing. 
What presets will I get?
This pack includes:
3 indoor presets, for your photos taken at home or anywhere indoors
4 outdoor presets, for photos with natural sunlight

4 presets focused on enhancing the look of your skin
3 presets that work as all rounders for any kind of setting
+ 9 additional presets that help you add a natural glow of sun = The Sunny Effect
The Sunny effect that is exclusively available on destinationchaser.shop (very proud of that!), is here to help you add a sunny, warm feel and a unique, professional look to your photos. The best thing is that it doesn't take any extra knowledge from your side, you can use them with one click like any other filter.
How will I get the presets? Did someone say EDITING HACKS?
After the purchase, the presets will be delivered to your email along with step by step instructions on how you can set them up, and in the spirit of learning more and improving your photography game, I have included my top editing tips & tricks so that you can use them too! :)
What if I need help?
Should you have any more questions or need any help with the presets, please message me and I will personally get back to you on my Instagram page @destinationchaser, I also have recently added a live chat to my online store on the bottom right :)
Thank you for considering my work and I can't wait to see you editing! Much love, Andi